Garden Sheds
We make to order, to your requirements. Quality timber, strong construction, there is no chip board used for the floor or roof. We only use toungue and groove wood for a high quality durable floor. We have been in the industry for over 30 years providing a friendly service and are always willing to help. We only sell quality sheds made from quality timber, they will last you over 20 years! We know this as we have had customers come back to us to say their shed that bought 20 years ago are still going strong!
Our best selling Garden Shed is the apex or pent roof shed. These come in a range of sizes from 5ft x 4ft to 12ft x 10ft with lots of options and extras.
Installation of all buildings
Old Sheds Removed
All Standards Sheds are pressure treated to last longer.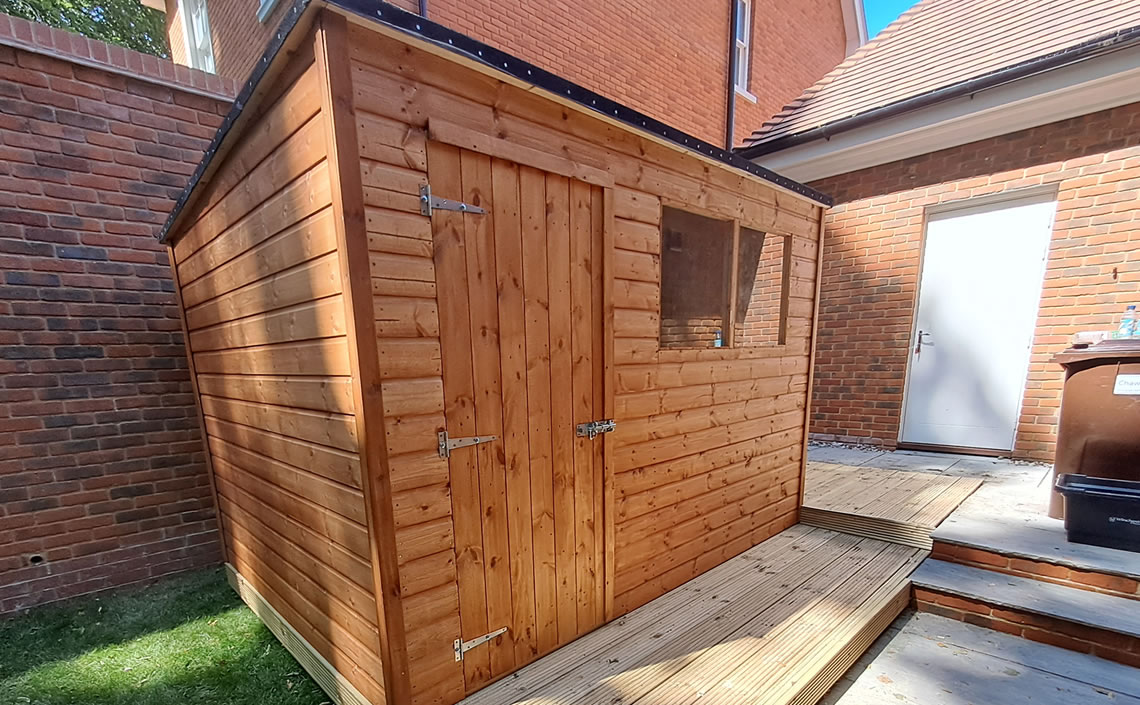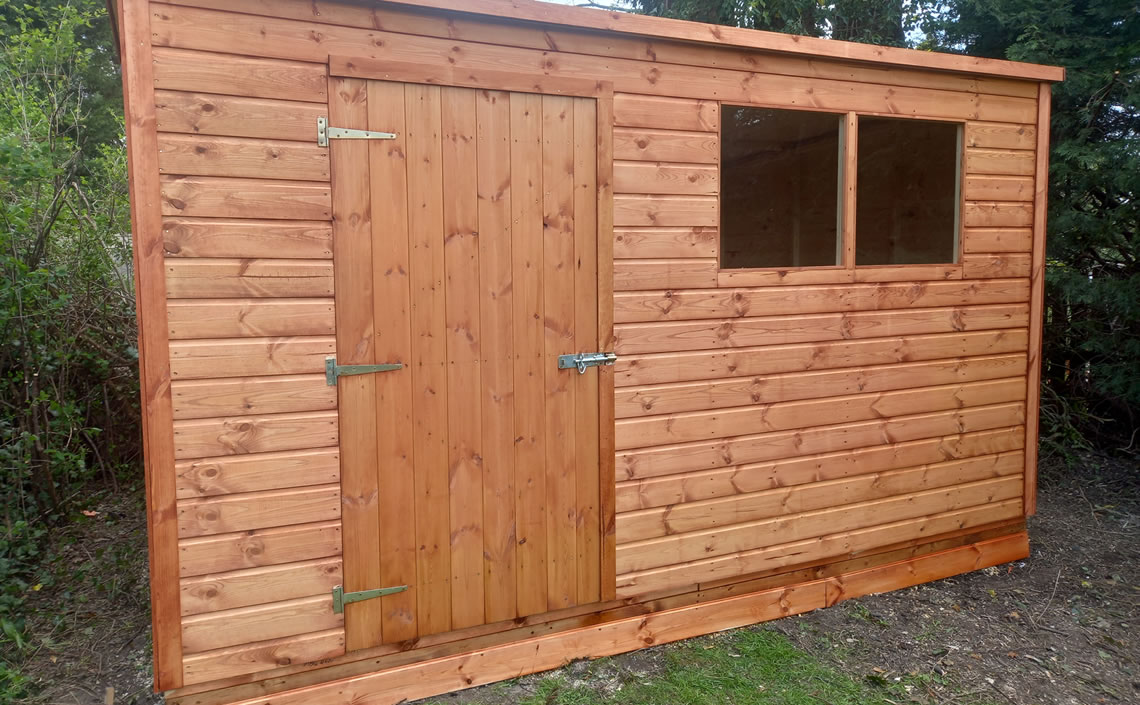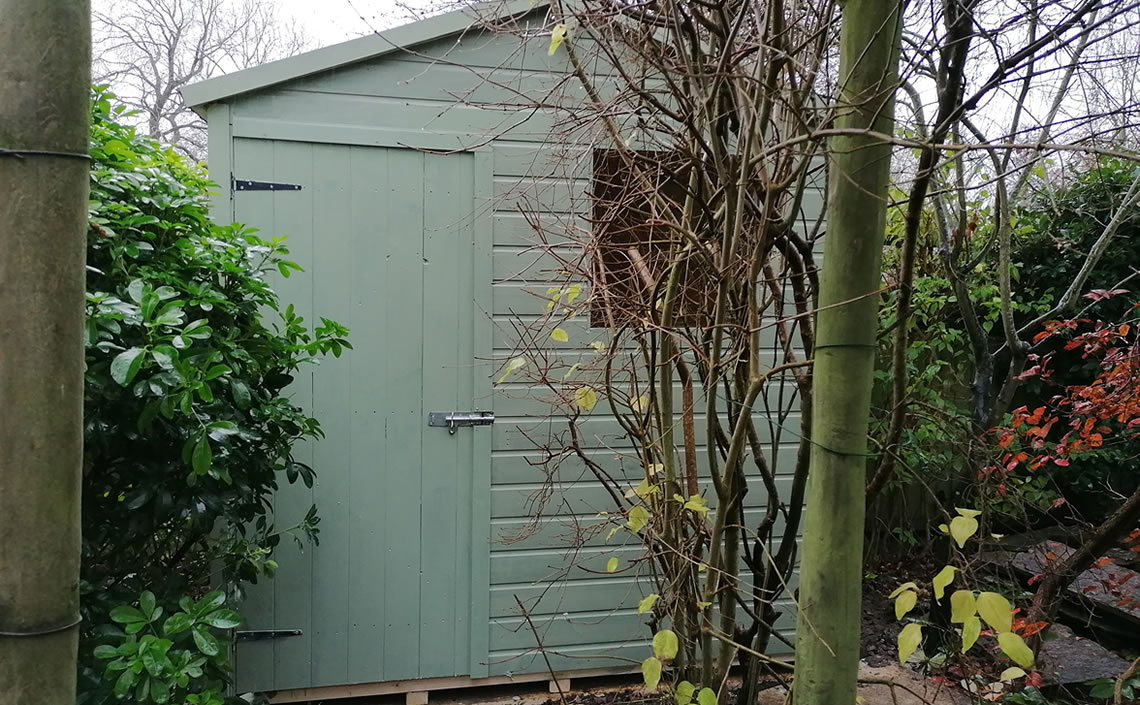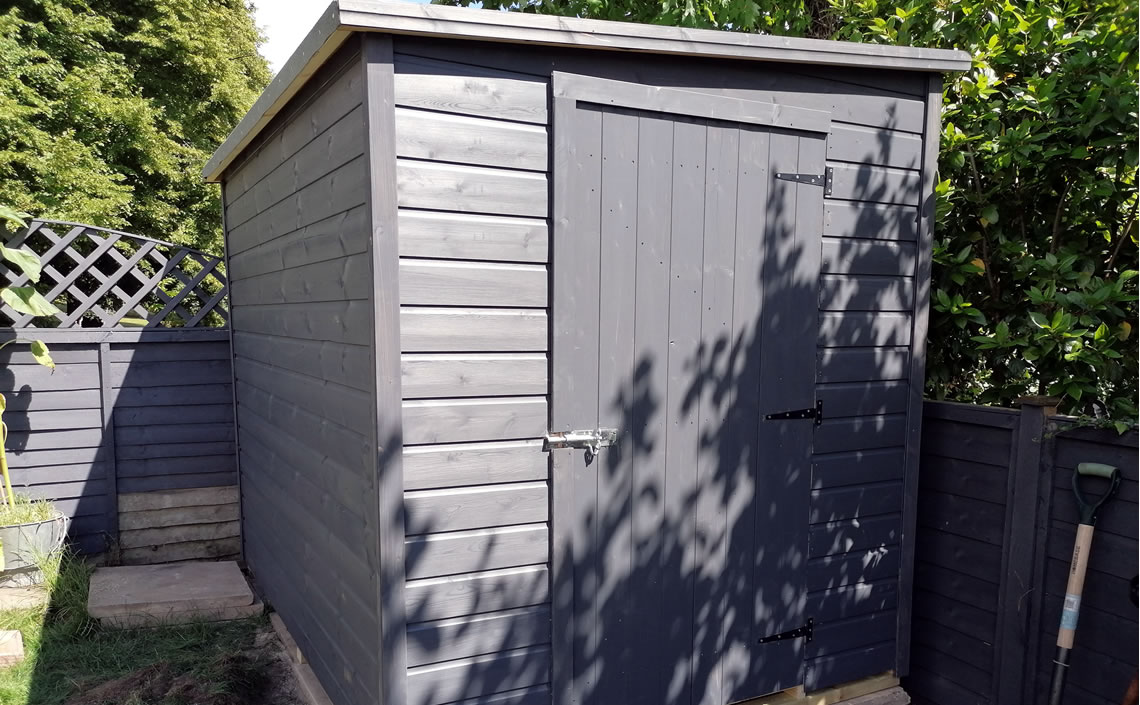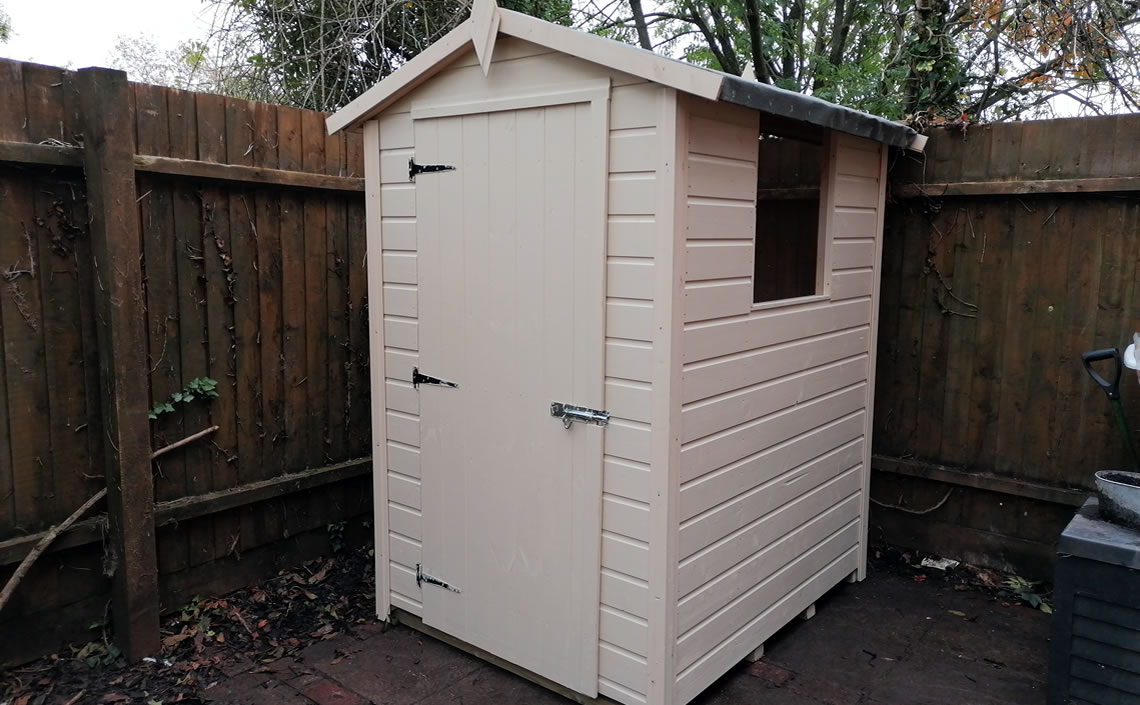 Sheds between 6ft x 4ft and 7ft x 5ft have one window, sheds between 8ft x 6ft and 10ft x 6ft have two windows. Sheds 12ft x 6ft up have 2 windows as standard but can have upto four windows.
All our sheds are made from pressure treated 16mm x 125mm red wood shiplap (this is size before it is planed). You can upgrade to 19mm shiplap for a more sturdy construction which will last many years.
Shed Specification
Internal eaves height 1750mm (69") ridge height 1875mm (74.5 )to 2055mm (81")
Roof and floors are made from 16mm x 125mm (tgv) tongue and groove, can upgrade to 19mm tgv (before planing)
All sheds 8ftx 8ft and larger will have a brace in the roof for strength (this will mean there will be no sagging)
We use green mineral felt on roof
Windows - 610mm x 610mm (2ft x 2ft)
5ft x 4ft to 7ft x 5ft one fixed window
8x6 or larger will have two doors
Single doors are 760mm (30") wide 1750mm (69")high ,fully braced with 3 T hinges & 1 pad bolt
Shed Prices
We can build to your bespoke requirements if you need something a little bit different, please let us know. You can also arrange a site visit.
All Standards Sheds are pressure treated to last longer.
Size
16mm Shiplap
Installation
Bearers
5ft x 4ft
(1.5m x 1.2m)
£485
£110
£38
6ft x 4ft
(1.8m x 1.2m)
£535
£110
£38
7ft x 4ft
(2.1m x 1.2m)
£635
£110
£38
8ft x 4ft
(2.4m x 1.2m)
£685
£125
£50
6ft x 6ft
(1.8m x 1.8m)
£517
£125
£50
7ft x 5ft
(2.1m x 1.5m)
£665
£135
£50
8ft x 6ft
(2.4m x 1.8m
£745
£135
£58
8ft x 8ft
(2.4m x 2.4m
£915
£135
£65
10ft x 6ft
(3.0m x 1.8m)
£915
£140
£65
12ft x 6ft
(3.6m x 1.8m)
£1445
£145
£75
10ft x 8ft
(3.0m x 2.4m)
£1295
£145
£75
12ft x 8ft
3.6m x 2.4m)
£1455
£165
£75
12ft x 10ft
(3.6m x 3.0m)
£1895
£185
£85
12ft x 12ft
(3.6m x 3.6m)
£2185
£185
£95
Add-ons
| Item | Price |
| --- | --- |
| 3ft Door | £55 |
| Double Doors | £80 |
| Extra Door | £59 |
| Extra Window | £55 |
| Open Window | £65 |
| Extra Height | 10% of Shed Price |
| Stable Doors | £85 |
| Stronger Doors | £80 |
| 19mm (tgv) on floor | 5% of Shed Price |
| 19mm (tgv) on roof | 5% of Shed Price |